In case you missed part 1.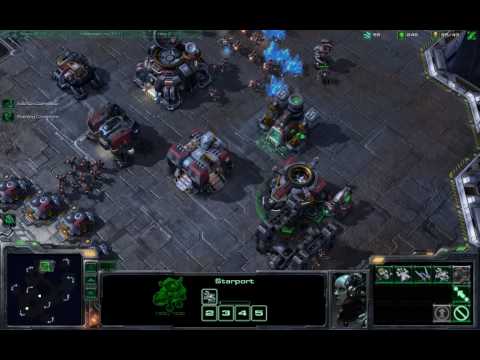 It's been roughly 30 days since I first wrote about Starcraft II. During the course of this month, I played many matches, improved my tactics, settled on a favorite faction, and even found some problems with the game. Also, so far there have been five patches, two surveys, a second wave of incoming beta participants and so on. A few days ago Blizzard announced that they are going to wipe the beta database, thus destroying any rankings, friends lists, account profiles and other items. This is to test battle.net's capacity to handle a mini launch, when everyone is going to be simultaneously creating accounts, etc. So let's talk about these things in more detail.
First of all, I should like to mention that my faction of choice is the Terrans. I like their mobility as well as their defensive and stealth-detecting capabilities. It appears that the players are divided somewhat equally among the factions. Out of the top eight players in my league, two are Terran (myself included), three are Protoss and three are Zerg. Of course, I gave the latter two a try before setting on the Terrans, but just as in the original Starcraft, I found them to be somewhat problematic as far as my personal play-style goes. Fortunately, all the races are balanced so well that it really comes down to your own preference, since none of them is stronger than the others.
The patches so far seem to support this opinion. There were no drastic changes in any of them; no new units, no removal of old units. Usually a few statistics are altered, and not insignificantly at that. For example, the last patch lowered the shield strength of a Protoss Zealot from 60 to 50. This was probably done to prevent a single Zealot rush tactic. I lost a few games to that on smaller maps. Now it will be easier for the SCVs to take out the Zealots while the first couple of Marines finish building assets. All the other changes are exactly along those lines, which in my opinion speaks to the excellent balancing job that was done prior to the start of the closed beta test.
As my play time increases, I'm learning a number of different strategies, usually because they have been used to defeat me. The first one is the massing of Marines. You build two barracks, research the add-on that allows you to build two Marines at once, and crank up the production so that soon you have a sizable mob of about 50 to 70 of them. Then go kill, all while building more barracks and rushing out more and more Marines. The advantage of this strategy is that there is no need for vespene gas. The disadvantage is that it only works against newbies who don't expect it. A siege tank or two can annihilate the mob with relative ease.
Another, slightly more advanced, strategy is to rush full speed to air. There are some variations in the build order, such as skipping or building the Engineering Bay and/or the Factory Tech Lab add-on (for siege tanks), but the idea is to end up with a Banshee as soon as possible and send it to destroy the enemy's workers. Few people protect themselves from air attacks early in the game, so you can either mass up some Banshees to maximize your chances, or send in the first one you build and keep adding more. Both ways carry risks because a single unit can be taken out more easily (and then they know you're coming), while building multiple units takes more time and money (but then it could be too late).
Even though the maps and the factions are designed to be balanced, sometimes curious problems arise. In one game after a fierce battle, my adversary (user name JROD) was left with only one Supply Depot and about three dozen marines. My base was completely annihilated, except for three buildings that I was able to fly away to a remote platform reachable only by air. Even though I had three SCVs, I had no money to construct a new Command Center; he could not reach me, and I could not reach him. We were in a complete and utter impasse, and because the game provides no option for a draw, both of us were stuck.
Overall, the game is shaping up rather nicely. I'm not generally a fan of competitive multiplayer, but so far I'm having fun with Starcraft II. I also feel like I'm getting better. Whereas in the beginning I hardly won a single game, right now my win to loss ratio is 1 to 1.09, which is not half bad for a non-professional. If any of you are in the beta as well and want to play a friendly match, let me know! Also, if you have any questions about any of the features, units, buildings, strategies, etc., please ask. I'll be glad to provide as much additional information as I can.